Do You Plan Your Wedding Well Using Christmas Wedding Cakes
Christmas weddings should be planned well in advance as it involves the big task to bring out the spirit of Christmas in its true splendor. Especially Christmas wedding cakes are an important part of Christmas weddings. You can plan an exclusive wedding cake for your Christmas wedding to make it memorable and beautiful. So, plan well in advance the recipe, the look, and style of your cake considering factors like décor, theme etc.
Ideas to Plan for your Christmas Wedding Cake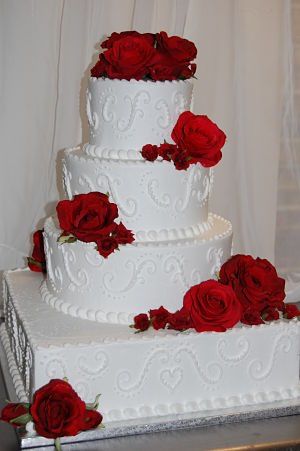 First of all plan the shape of your wedding cake, whether you want it to be a round or square. It can also be a combination of cakes of different shapes. This depends on your style and preference. It is generally considered that square wedding cakes are more apt for Christmas weddings. White fondant cakes are mostly preferred as Christmas is mostly related to white color in the form of snow and also indicates purity. You can also go for other colors but it would be preferable not to overdo it and stick to basic colors or colors related to Christmas like red or green.
Colors for your cake should also match your décor and the cake should not stand out like an odd-man-out. For example, if your color theme is a combination of white and red stick to these two colors in your cake as well. Plan the colors in advance so that the suitable decoration ideas can also be planned. If you are planning to use the colors red and white, you can very well plan for a three-tier white fondant wedding cake. You can decorate your cake with real red Christmas flowers and red decoration balls. You can also add some greenery by including pine cones or leaves with these flowers. This would make for a stunning Christmas wedding cake that would make your guests go gaga.
It would be for the better if you can plan for the recipe, ingredients, and filing, etc., well in advance. This would avoid confusions in the future.
Simple decoration ideas must be planned out well before in order to avoid confusions before your wedding if in case any of the decoration thing becomes unavailable at the last moment. You should have them all ready in order to make your Christmas wedding the most beautiful wedding your guests have attended ever.